Sport
Senior
27th November 2018
2018 Scottish Rugby L200 League Champions!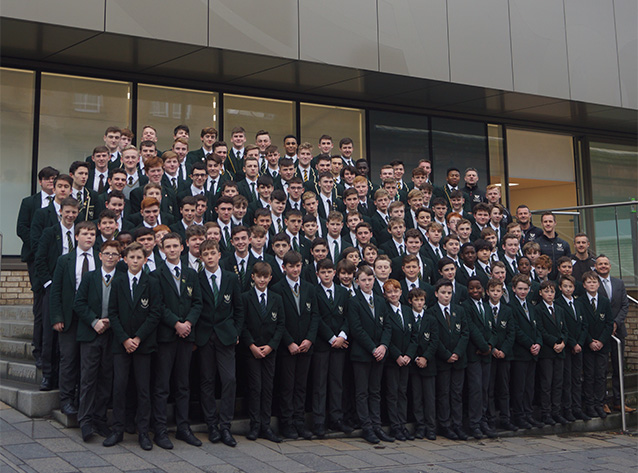 2018 Scottish Rugby L200 League Champions
Personal Excellence
Continuing on from their rugby success in 2016 and 2017, we are very pleased to announce that St Aloysius' College, have been crowned champions of this year's Scottish Rugby L200 League!
Involving all teams from S1 to the 1st XV, the SRU L200 championship started in September and involved some tough competition from other independent schools including The Glasgow Academy, The High School of Glasgow, Kelvinside Academy, Hutchesons' Grammar School, and George Heriot's School.
Due to the complicated scoring system of the league, smaller teams like St Aloysius' College are slightly disadvantaged as points are awarded simply on the ability to field an A and B team. Therefore, quality over quantity was the aim of the game for St Als' and each year group played exceptionally well over the course of the competition, securing 34 wins out of 35.
Knowing the race for the title was going to be very close heading into the last round, St Aloysius' Director of Rugby, Mark McKenzie, knew he still had to field a B team if there was a hope of winning the league overall. He drummed up some support from the ever-enthusiastic S1 pupils and managed to get two boys to play for the College in their first ever rugby match.
They got involved with the sole intention of having fun but managed to secure an extra point for the College too. It turns out the extra point made all the difference as St Aloysius' won the championship by just one point, beating second place George Heriot's.
Reflecting on this remarkable story, Mr McKenzie commented: "To win the L200 conference is a huge achievement for the College. The boys have performed magnificently, especially when you consider the fact that we were disadvantaged from the start due to the points scoring system. At some years it's not possible to field two teams and therefore bigger schools can generate more points on any given Saturday.
To put this in perspective we played 35 competitive games during the competition and our boys won 34, a truly outstanding display!
As Director of Rugby, I am very proud of the boys and what they have achieved as a whole school."
Head Master Matthew Bartlett commented: "This is an amazing achievement that showcases the exceptional commitment of our rugby players. This is won not just by a few but by so many young people across all our year groups. I am also delighted how the strength and conditioning made possible through our state-of-the-art gym in our new Sports Complex has helped improve the performance of our young people."