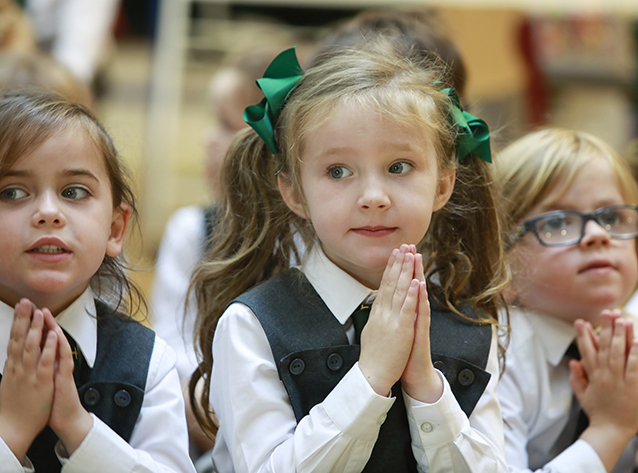 "The holistic approach to Jesuit education means that faith and values are integral…"
Faith and Values – Religious Formation – is central to all that we do in the Junior School. As our pupils continue their spiritual journey in the Green Blazer, we encourage them to embrace Christian values and be men and women for others in everything that they do.
The holistic approach to Jesuit education means that faith and values are integral to everything the children do, not separate or added to the educational process. Pupils who do not practice the Catholic faith are also given opportunities to practice their own religion as part of our wider educational community.
In partnership with parents as the 'first and most important educators of your children', the school follows the guidelines as laid down by the Archdiocese of Glasgow.
Staff work closely with pupils to ensure that the children participating in the Sacraments fully understand and appreciate the theological foundations of their faith.
As a school we do all that we can to encourage faith of children and support parents as they continue this aspect of their education in life out of school.
The Sacraments are central to religious life in the Junior School. We are privileged to help pupils along this journey and work closely with chaplains and parents to guide and inform the boys and girls as they prepare.
Opportunities are provided for regular reception of the Sacraments and add to the school experience of a Jesuit education. Mass is provided daily and there are twice weekly opportunities to attend confession.
As a Catholic school, we feel that the best way for your child to engage with the Sacraments is through the education they receive in the classroom. Our holistic approach to faith and values ensures that faith is not separated from learning and, in fact, children appreciate the sacraments and God's gift in the greater context of learning and growing.
Sacramental Calendar
Reconciliation (P3)
First Holy Communion (P4)
Confirmation (P7)