OA
14th November 2019
Angela Synnot (Class of 94) Revisits Language Department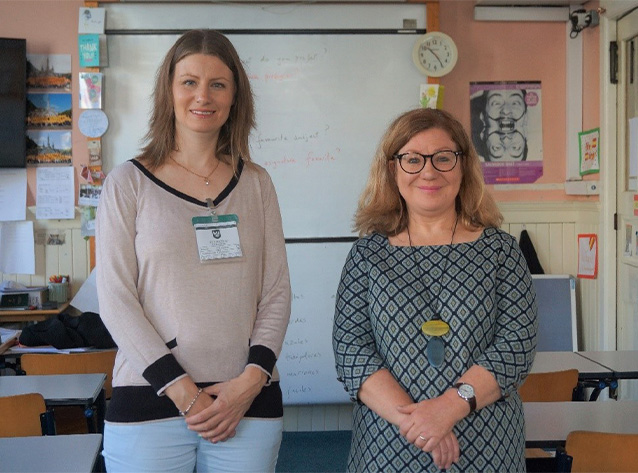 Recently, we had the pleasure of welcoming back OA Angela Synnot (Class of 1994) to St Aloysius' College. Angela visited our Modern Languages department where she was shown around by Mrs Murray, our Head of Modern Languages.
When Angela was a pupil at the college, she developed a passion for languages and has fond memories of Latin with Mr. Santangeli and French with Mr. McWilliams. After leaving the college in 1994, Angela decided to take a GAP year and travelled to Torreon, an isolated industrial town 8 hours from the Texas border, where she volunteered in a children's cancer hospital, a school for pupils with Down syndrome and as an assistant teacher in the local Jesuit school, Carlos Pereyra.
"The year made a great impression on me, stressing the importance of social justice and working with others to make a difference. My full immersion of another culture allowed me to understand more about the world and the perspectives and traditions within".
On her return to Scotland, Angela continued to develop her passion for languages by furthering her studies at the University of Strathclyde where she studied International Business and Modern Languages. Here, she followed up her travels through the Erasmus programme. After gaining a PGDE in Language Education, she started working at Mount St. Mary´s College.
Despite working in the UK, Angela said "Mexico kept a special place in my heart. As my first extended experience abroad, I formed many friendships there," so she frequently travelled to Mexico to see her friends, before she eventually married one of them. This resulted in the move back to Torreon, where Angela currently lives with her husband and two children.
"Through connections with pupils at Mount St. Mary´s College and my understanding of the importance of international pupils, I founded my own study abroad agency called UK Connect. I send teenagers to study in the UK and Europe, promoting their language learning, world-awareness, and cross-cultural friendships. I am passionate about the agency value in terms of international relations in today's interconnected world.
It all started with my gap year, thanks to the Jesuits. I am very grateful and hope to continue these connections: we shouldn't underestimate the Jesuit identity and their links across the world."
You can visit Angela's UK Connect Facebook here.