Sport
Whole School
7th March 2017
College Celebrates New Sports Facility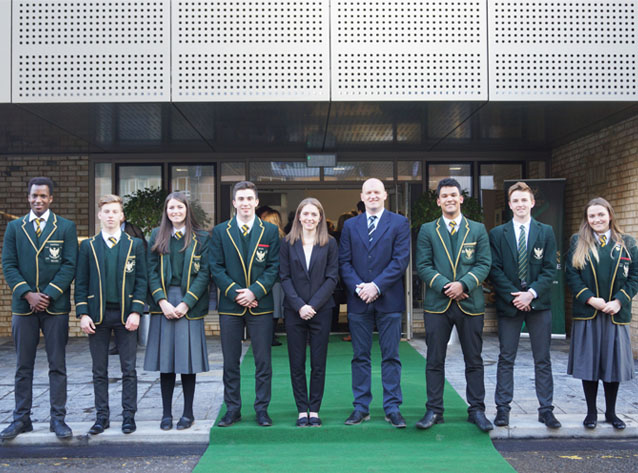 Make a Difference
College Celebrates New Sports Facility
Over the past months, students, staff and parents alike have observed the construction of the new College Sports Facility on Dalhousie Street. In the past few weeks, particularly, we've witnessed an astonishing transformation from building site to new build. On Monday night, it was with much excitement that students, staff, parents and friends of the College were offered a sneak peek into the newest College building at The Dedication of the St Aloysius' College Sports Facility.
The event was star-studded, with guest appearances by sports stars Gregor Townsend MBE, Head Coach of the Glasgow Warriors, and Susan McGilveray, former defender in Scotland's national hockey team. The pair were given the honour of unveiling the plaque commemorating the occasion, after which they were posed a series of questions by the College Sports Captains about their sporting experiences and inspirations.
The blessing and dedication of the facility was kindly performed by The British Jesuit Provincial, Fr Dermot Preston SJ, who also led the College in prayer.
The Schola Cantorum sung two uplifting songs, including an inspired performance of the Zulu Wedding song Hamba Lulu.
After the ceremony, guests were invited to take tours around the building led by members of S6. The routes included visits to the fitness suite, changing rooms, and dance studio, in which guests remarked on the beautiful view from the facility. Visitors were then invited to the College Hall for hospitality, including drinks and delicious nibbles prepared by the catering team.
Warmest thanks to everyone involved, in particular the members of staff who organised the event, and to our special guests Gregor Townsend, Susan McGilveray, Fr Dermot Preston SJ, and our generous donors for giving up their time to be in attendance.
Great things really do happen when we get active!