Academic
Senior
4th December 2018
Eva wins Glasgow Speakers' Schools Competition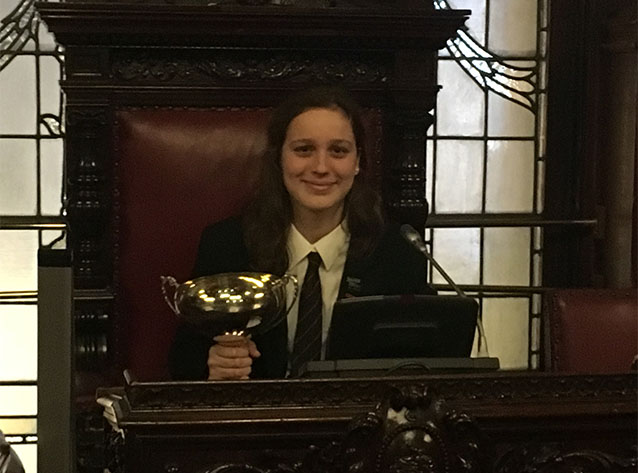 Eva wins Glasgow Speakers' Schools Competition
Delight in Learning
Congratulations to Eva Pryce (S4) who was crowned the winner of this year's Glasgow Speakers' Schools Competition at Glasgow City Chambers on Monday evening.
Eva gave a lively and highly engaging 7-minute speech on the topic of conspiracy theories (which was declared 'best speech of the night' by the Head Judge during the semi-final of the competition). It was very humourous and contained some great references to famous conspiracy theories, from Paul McCartney being replaced by a lookalike in the 1960s to President Trump and Kim Kardashian secretly being lizard people!
Eva was up against three other competitors from schools across Glasgow. Subjects ranged from patriotism to The Great British Bake Off!
This is the first time St Aloysius' College has won the prestigious competition, one of the oldest speech competitions in Britain, for a number of years, making Eva's win all the more impressive.
Eva also competed in the Rotary Final last Tuesday night, where she delivered a completely different speech on the subject of humility. Each speech was memorised, meaning Eva has had to memorise over 13 minutes of original material.
Mr Meechan, organiser of the Public Speaking Club, commented on Eva's win: "I am delighted with Eva's success in this competition. She has been a committed member of the Club for four years and her success is a testament to her dedicated attitude."
Very well done Eva!