Whole School
29th March 2019
Maurice Taylor CBE, DBA, KJSJ, FBIM, FIH, KOHS - Chairman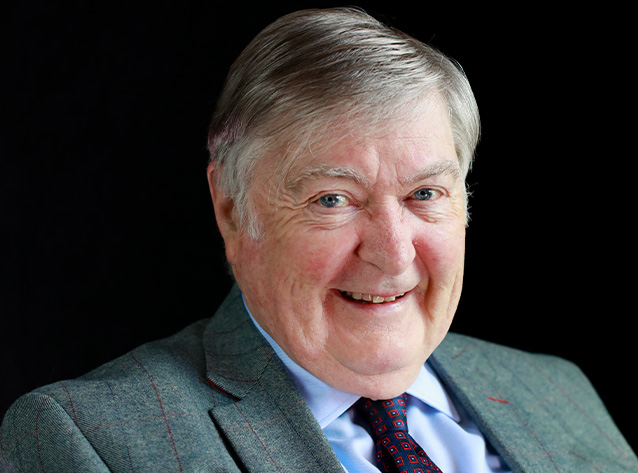 OA Hall of Fame 2019
Recognised for his services to Business and Philanthropy
Maurice Taylor CBE, DBA, KJSJ, FBIM, FIH, KOHS - Chairman
To conclude our final 2019 OA Hall of Fame, we had the pleasure of welcoming Maurice Taylor, class of 1958 (and Trustee of the St Aloysius' Schola Foundation) to the College to be recognised for his services to Business and Philanthropy.
Maurice and his wife Una, attended Tuesday morning's 'Celebrating Success' assembly where he delivered an inspirational talk to our Senior School pupils, sharing an insight into his business empire. Maurice told our pupils of how he was driven and passionate from a very young age.
He concluded the assembly by sharing a phrase that his good friend once shared with him-
"There are two ways to climb an oak tree. You can climb it, or you can sit on an acorn and wait for it to grow".
Biography
Maurice V Taylor is Founder and Chairman of The Chardon Group.
Renowned and respected both nationally and internationally, Maurice is recognised for dedication to entrepreneurship and innovation, and distinguished by strategic vision.
Maurice owns a number of Scotland's most successful hotels and restaurants, including Holiday Inn Glasgow Theatreland and Holiday Inn Express Edinburgh Airport. Back in 1975, he also launched Glasgow's original French Mediterranean Brasserie, the award winning La Bonne Auberge, and today diners can still enjoy the delights of its tantalizing, 'in-vogue' menus at Maurice's Glasgow Holiday Inn Theatreland.
In addition he created, developed and ran the prestigious Parklands Country Club in the Newton Mearns area of Glasgow – another first in its class at the time.
He also founded and operated Chardon Management the UK's largest independent hotel management company which was subsequently sold after 15 years to Interstate Hotels and Resorts the largest U.S. based global management company.
Throughout his years in the industry Maurice has been the proud recipient of a plethora of awards including Lifetime Achievement and Entrepreneur of the Year from a number of august bodies. He is currently visiting Professor at the Scottish Hotel School and holds an Honorary Doctorate from the University of Strathclyde and also elevated Maurice to their own "Hall of Fame" for Entrepreneurs.
Maurice's most recent achievements are Lifetime Achievement Award from Inspiring City Awards, The Lifetime Excellence Award from CIS Excellence Awards and this year (2016) his appointment as a Commander of the Order of the British Empire (CBE) for services to business and charity.