Senior
4th December 2019
More Success in Public Speaking!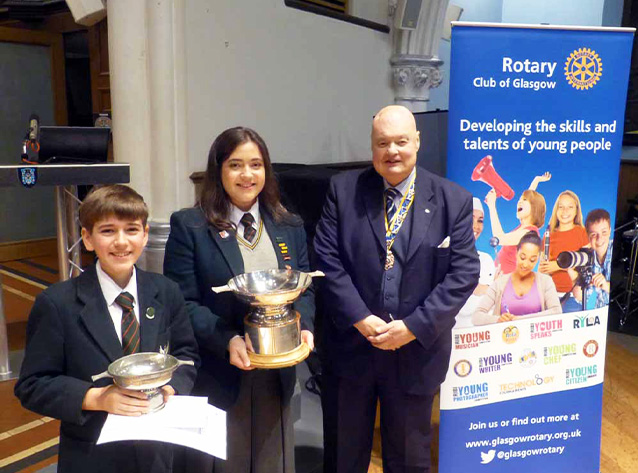 On Thursday 28th November, in the Fotheringay Auditorium at Hutcheson's Grammar, four College pupils took part in the Final of the Rotary Club's annual Public Speaking competition.
Christopher Morris from S2, Liam Kearney from S3, and Eva Pryce and Scarlett Morris from S5 represented the College, each giving a five-minute speech that they wrote, rehearsed and then delivered from memory.
57 pupils from a range of Glasgow schools participated in the competition heats, which makes it all the more remarkable that four of our pupils made it through to the Final!
In the Junior competition, for pupils in S1 to S3, Christopher Morris won the trophy for the second year running. Christopher's speech imagined a world in which vegetables tasted sweet and were loved by all children!
In the overall Rotary competition, for pupils in S1 to S6, Scarlett Morris was the winner despite some tough opposition. Scarlett spoke on the topic of equality. Commiserations to Eva and Liam who both spoke with style and confidence.
This is the fifth time that the College has won the Rotary's Public Speaking Competition since the competition started in 1981.
"We are very proud of all of the pupils who represented the College in this prestigious competition, and delighted for Scarlett on her victory. This is a fantastic achievement for our Public Speaking Club, which continues to go from strength to strength. For any senior school pupils who may be interested, we meet every Friday lunchtime in the Convent Chapel from 1.15 pm" - Mr. Meechan, English Teacher