28th January 2020
Rugby Scholarship Success for OA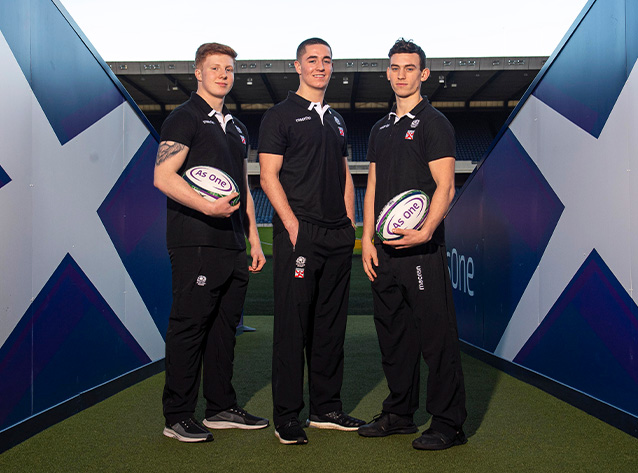 *Photo Credit- Scottish Rugby/SNS*
The College is delighted to announce that former pupil and Rugby Captain Adam Scott (Class of '19) has been awarded the highly coveted John Macphail Rugby Scholarship by Scottish Rugby and will soon be jetting off to South Africa to train for fifteen weeks at Stellenbosch University's high-performance training facility.
On January 23rd 2020, Scottish Rugby announced the three winners of the 2019 once in a lifetime scholarship, of which Adam was one. These players are regarded as the most promising players in Scottish Rugby at youth level and previous recipients include Jonny Gray and Finn Russell.
On Monday 27th January, Adam will head out to South Africa to start his training. After the announcement, Adam spoke with the College about the news, "I'm really looking forward to being independent and living in another country, which is a massive life opportunity aside from rugby! Such intense training in the heat is going to be difficult, but how can you complain when you are living in Cape Town doing the thing you love?"
After playing at Helensburgh for seven years, Adam joined St Aloysius' College in fourth year, with high hopes of furthering his development in rugby. Adam hit the ground running, "I was instantly thrown into the deep end when I joined this college with opportunity to play for the 1XV at the age of 15. This was a huge honour for me. In my final year, I was given the role of captain of the 1XV, which resulted in a lot of rewarding matches and happy times within the squad. To top things off, we played at Murrayfield in the Scottish Schools' Cup Under-18 Final."
Since leaving the College, Adam has continued training with Scottish Rugby on a full-time contract at the FOSROC Scottish Rugby Academy, and with Glasgow Warriors occasionally, as well as representing Scotland in the U19s Scotland vs Wales. Reflecting on his time at St Aloysius' College Adam comments, "My time and memories at the college are surrounded by rugby. I had a lot of amazing opportunities from my experience and I am very grateful to the staff and coaches who believed in me."
Looking to the future, Adam remarks, "I am really looking forward to furthering my rugby and I am so excited to see what the next five months will bring. I feel fully focused and can't wait to touch down in South Africa!"
After the announcement, Gary Heatly, prominent sports journalist, interviewed Adam on his rugby success and time at the College. Here you can read that interview in full:
Former pupil Adam Scott (class of 2019) has paid tribute to the rugby coaching he received at St Aloysius' College as he prepares to embark on a 15 week adventure in South Africa where he will train with top coaches and other up-and-coming players from around the world.
Early next week Adam, along with fellow 18-year-olds Cole Lamberton (Edinburgh Accies) and Mikey Heron (Stirling Wolves), will be flying off to Stellenbosch University near Cape Town after they were awarded the coveted John Macphail Rugby Scholarship.
The programme funded by the Robertson Trust - now in its 15th year - allows players to benefit from a longer period of time in a concentrated environment while keeping aligned to the northern hemisphere season.
The trip will also take the trio out of their comfort zone and allow them to experience playing the game they love in the country that just recently won the men's World Cup.
Adam, a stand-off or full-back played at local club Helensburgh for seven years before moving to St Aloysius' in his teens.
"I loved playing at Helensburgh and the club helped me on the way to Scotland under-16 honours, but then I had the chance to move to St Aloysius' for my education and to further my rugby and I jumped at the chance," Adam explained.
"While I was at the school I had the privilege of playing alongside some great players and getting to the Scottish Schools Cup final at under-16 level and winning it at BT Murrayfield is still a highlight of my career to date.
"To do something like that and play at the national stadium with your best friends is the stuff of dreams and to go back there and captain the school in the under-18 final was a great honour too."
In the under-16 final with Strathallan School in late 2016, Adam kicked a penalty and put in a good showing in the 10-3 win while, in late 2018, he led his team out in the under-18 showpiece match.
The St Aloysius' team lost that one 40-7 to a strong Merchiston Castle side, but they did the school proud.
And Adam looks back fondly on the coaching and advice he received at St Aloysius' during his year's there.
"There were some great coaches around at the school and they were always there to give us advice, help us juggle training with our academic work and generally give us advice," he stated.
"As a stand-off/full-back it was obviously great for me to be able to learn from someone as experienced as Mark McKenzie while, as he played 10 to a high level in his own career, he really helped me out with the game management and kicking parts of my game.
"He pushed my game on a lot and we had a good coach/captain relationship. His promptings and those from others at the school helped me move towards Scotland under-18 selection and they gave me a lot of pointers and tips which have helped me since I left school to be part of the FOSROC Scottish Rugby Academy, play for GHA and push for more Scotland age-grade chances.
"Now to get this chance to go to South Africa is amazing and I'd like to thank the people at the school who have helped me get to this point.
"Straight away when I was phoned to tell me about this opportunity I was excited.
"I've seen the names [of previous Macphail Rugby Scholarship recipients] and I'm absolutely over the moon to be following in their footsteps.
"In recent months since leaving school I have enjoyed breaking into senior rugby in the Tennent's Premiership with GHA and I really want to use the trip to South Africa to try and take my game to the next level through a lot of hard work, I can't wait."
What is the Macphail Rugby Scholarship?
The Macphail Rugby Scholarship was established in 2005 as a partnership between The Robertson Trust and Scottish Rugby.
Created in memory of ex-Scotland Internationalist John Macphail (1949-1951), the scholarship was developed for talented young players but has also supported coaches.
John Macphail Rugby Scholarship recipients
2019 [2019/20 season]: Mikey Heron, Adam Scott, Cole Lamberton
2018: Thomas Jeffrey, Jacob Henry, Kristian Kray
2017: Angus Fraser, Andrew Jardine, Guy Kelly
2016: Patrick Kelly, Ross McCann, Mike Blair (coach), Calum Forrester (coach)
2015: Callum Hunter-Hill, Ben Robbins, Ben Cairns (coach), Duncan Hodge (coach)
2014: Adam Ashe, Ewan McQuillin, Don Caskie (coach), Kenny Murray (coach)
2013: Sam Hidalgo-Clyne, Finn Russell, Shade Munro (Coach), Alex Duncan (coach)
2012: Jonny Gray, Gregor Hunter, Chris Paterson (coach), Ben Fisher (coach)
2011: Grant Gilchrist, Harry Leonard, George Turner and Ian Monaghan (coach)
2010: Finlay Gillies
2009: Lewis Niven
2008: Roddy Grant
2007: Kevin Bryce
2006: Graham Hogg
2005: John Barclay