Academic
Junior
10th June 2019
St Aloysius' win 2019 Eloquente competition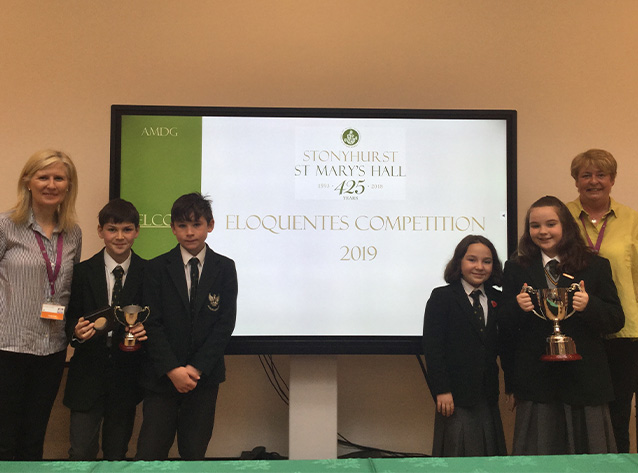 St Aloysius' win 2019 Eloquente competition
Personal Excellence
On Wednesday 1st May, the St Aloysius' College Junior school Debating team headed to Stonyhurst St Mary's Hall for the first Jesuit Junior School's Debating Competition. The primary 6 team was chosen after competitive auditions and prepared by Mrs. Maclean. The St Aloysius' College team entered the competition representing Scotland against five other Jesuit schools from England.
The morning of the competition was the Prepared Speeches section. Bella was the principal speaker, capably backed up by the rest of the team, on her selected topic The Common Good. In the afternoon, the debate took place on the topic of "all children should play a musical instrument" with the St Aloysius' team proposing the motion. Each of the team spoke articulately on the topic, confidently making their points and skilfully countering the arguments of the opposing team. After dinner, the children had a social evening of swimming and a cinema night with their fellow pupils, making new friends.
The following morning, after an excellent breakfast, the awards ceremony took place with Bella winning the individual award for the best speech and we were delighted when St Aloysius' College was announced as the overall winner of the inaugural 2019 Eloquente competition!
"All of the children worked really hard in the preparation for the completion, performed magnificently during the event and were excellent ambassadors for the school. Thanks also to Miss Ellis for being part of our winning team" Mrs Maclean