OA
Whole School
7th December 2018
Tennis Ace Returns to College to Meet Rising Star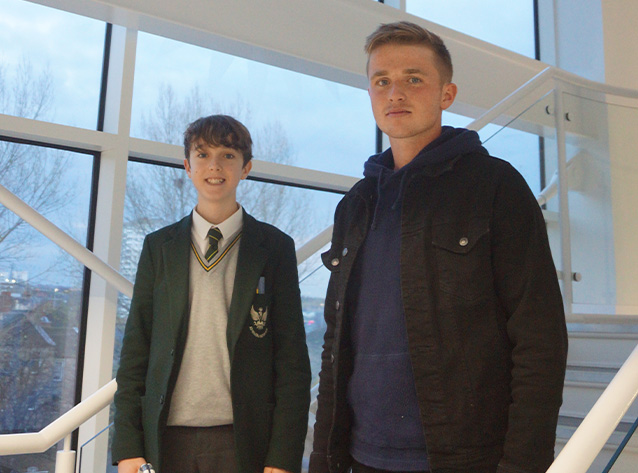 Tennis Ace Returns to College to Meet Rising Star
Personal Excellence
Former St Aloysius' College pupil Aidan McHugh has been rather busy the past few months - or years for that matter!
The Bearsden teenager, who turned 18 in the summer, has recently returned from Kuwait where he claimed his first two professional singles titles. To top it off, he has just reached a career-high ATP ranking of 499 in the world, with only six other players his age in the top 500. Considering he was ranked 1858 a year ago, things are certainly moving in the right direction for Aidan.
With his busy schedule taking him across the globe to the likes of Australia, Egypt, Israel, USA, and Spain to name but a few, you would think when Aidan returns home to Glasgow the last thing he would want to do is visit his old school, but that's not the case for this athlete! Aidan generously made the time to visit St Aloysius' College to chat with us and also meet with Joseph Logan, an S3 pupil and up-and-coming tennis player from Cambuslang who recently won the Boys Final in the Road to Wimbledon competition.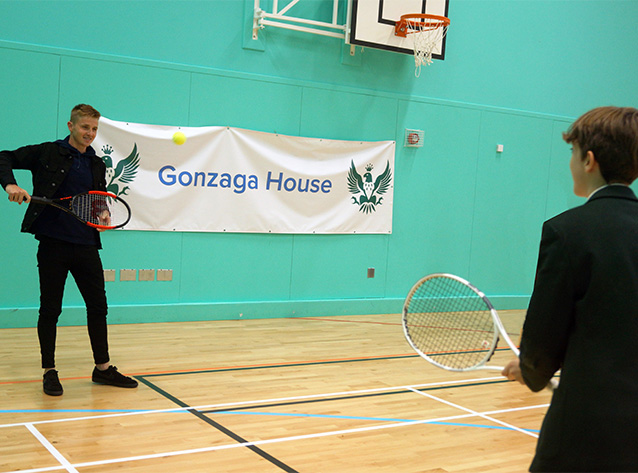 (Aidan even managed to hit with Joseph and give him a few pointers!)
St Aloysius' is very much a familiar place for Aidan, with a number of his family members, including his father, having attended the College in the past. However, Aidan admits that some of his teachers may disagree as he was out of school playing tennis for a lot of his final year!
One thing that has changed is the new, on-site, £8-million sports complex and Joseph was more than happy to give Aidan a tour of the new facility.
"This is a lot better than some of the gyms I've trained in," commented the tennis star, "it's literally got everything I would be using, even in London. If I was still here I would be using that all the time. I used to travel to Scotstoun a lot to train which I wouldn't have had to do if this was here. It's a great gym."
When Aidan's not travelling the world (he's out of the UK roughly 32 weeks of the year) he's usually based in London at the LTA's National Tennis Centre, a state-of-the-art facility with 22 courts and a world-class sports science centre.
"It's a huge campus so you don't really leave that much" Aidan explains. "The LTA and GB Tennis help out a lot with food and accommodation. I've got used to being away and I've got lots of friends down there."
Since leaving the College, Aidan has been on a bit of a whirlwind and one of the highlights was being signed to (Sir) Andy Murray's company, 77 Sports Management.
"It's amazing!" Aidan proclaims. "Obviously, they help with deals and sponsorship which is great (Aidan is sponsored by Wilson and Nike) but the main bonus is that I get to have Andy keeping an eye on how I'm doing and getting his advice. He's a brilliant player and especially good at tactical advice. As I'm a one-handed player he uses examples from when he played Fed (Roger Federer) to give tips on things that might help me."
If you follow Aidan or Andy on Instagram you will notice the teenager and former world number one have struck up quite a friendship in the past year, "Yea he likes to wind me up" Aidan laughs, "but it's all a bit of fun, we have a similar sense of humour. A lot of people don't realise how funny he is. He's really good to be around on and off the court."
Telling us more about his relationship with the famous player Aidan comments, "I just try and learn everything I can from him. He tells me I don't ask him enough! We actually talk a lot about football instead of tennis. I was in a fantasy football league with him and Jamie (Andy's brother and professional tennis player Jamie Murray) last year but I didn't do too well so didn't make the cut this year!
"He's just so easy to talk to and get advice from, and Jamie too. I was with Jamie more before I properly met Andy and I would train quite a lot with him. They're so similar and both just work really hard."
Joseph was thrilled to hear all about Aidan's stories with the Murrays and travelling the world but he was also curious to hear about his life whilst at the College, asking him what advice he would give on juggling his training with his studies (Aidan still managed to do extremely well in his SQA Higher exams, which, according to him, was down to "keeping in with the teachers!").
"The College and all of my teachers were so nice and supportive," explains Aidan. "They were really helpful and if I ever missed work they would always help me catch up and go out of their way to make time for me.
"But it's hard work. A lot of the time I would be up quite late doing homework after training and then back up for training at 7am before school.
"And when I was away I would have to study a lot. Some of the tennis guys wouldn't understand as they thought tennis was the most important thing but I knew I wanted to get my Highers. You just need to take care of your own stuff."
Having someone who went to the same school and is successful in the same sport is clearly inspiring for Joseph and he's keen to learn as much as possible from Aidan during the meeting, "Do you have any tips for a junior player like me on how to make it in tennis?" Joseph asks.
"Well, I'll tell you what Andy told me," Aidan responds, "just make sure you look after yourself and your body. Train hard and stretch lots.
"And keep working hard. I would try and get as much out of my coaches and training sessions as possible. If my coaches were telling me to stop or go home I would tell them I wanted to do more. And on squad try to hit with the best guy.
"But most importantly, just enjoy it."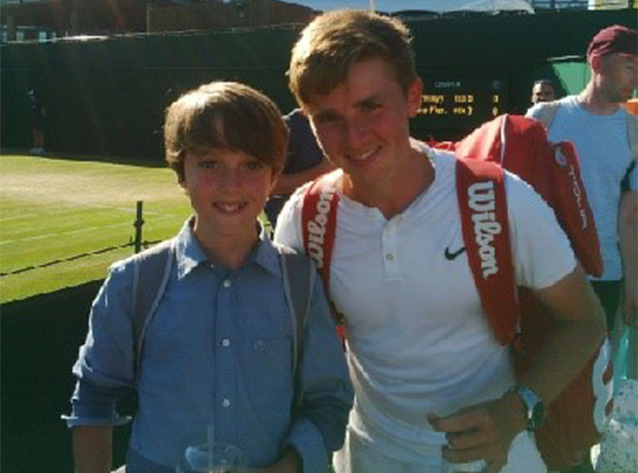 (Aidan and Joseph at Wimbledon a few years ago. Joseph didn't know Aidan personally but went to watch him play and queued for a photo after the match.)
So what's next for Aidan on his road to the top? Well, he's just about to fly out to the US for training at the world-renowned IMG Academy Bollettieri in Florida. While he's there he will also head to Miami to train with Jamie Murray and famous doubles coach Louis Cayer, hopefully managing to hit with Andy while he's there too.
"I'll at least manage to get back for Christmas before the new calendar is out and it's back to training and tournaments" Aidan reassures.
And as for Joseph, well he will be taking the advice of Aidan and entering as many competitions as possible, as well as continuing to work hard at his studies.
Head Master, Matthew Bartlett, commented, "The College is extremely proud of Aidan's achievements in the world of tennis so far and we're sure we will see many more 'Great Things' from him. We're also extremely excited about Joseph's success and we're thrilled to have two tennis stars start their journey at St Aloysius'. As a College, we are keen to support our young people in all their endeavours, in and out of school, as this is key to our Jesuit roots and our dedication to the formation of the whole person."
As a College we're very much looking forward to seeing Great Things from both Aidan and Joseph - first stop St Aloysius' College, next stop Wimbledon Mens' Final!