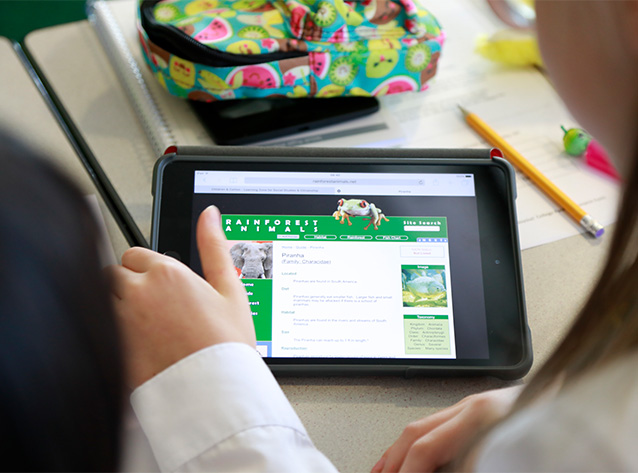 We understand that this is a difficult time for all of us and it will take time to adjust to learning at home. We want to reassure pupils and parents that we are dedicated to providing continuity of learning while at home and we are doing everything we can to make sure this is a smooth transition for pupils, parents and staff.
We do not expect parents to become teachers or for pupils to mirror their normal school day. We will provide resources and work to ensure that learning continues but flexibility is key. We know this can be an anxious or stressful time for our young people. Below you will find resources for the Junior and Senior School.
Junior School
Junior School learning will be facilitated through our online platform, Schoology. All parents/carers have been emailed guidance on how to log in to their child's Schoology classroom. You can log in to Schoology here.
Please note that we do not expect children to be working on a device all day during school hours. The school day is a mixture of work, play and relaxation and so should the home learning day. Build in plenty of break time, time in the garden if possible and most importantly, family time. Make the home-learning work for your circumstances.
We will continue to revise what we do to ensure that your child receives a dynamic, engaging and challenging diet of activities during this period.
A Guide to Teaching and Learning from Monday 20th April – Junior School Pupils
A copy of the emails sent regarding Junior School learning and teaching can be found here:
17th April - Letter from Head Master and Junior School Deputes - Update
2nd April – Letter from Matthew Bartlett, Head Master – Junior School At Home Learning from Monday 20th April
26th March – Email from Junior School Leadership Team – At Home Learning Update
Senior School
All Senior School online learning will take place via Schoology and all pupils have their own Schoology accounts. You can log in to Schoology here.
A Guide to Teaching and Learning from Monday 20th April – S1, S2, S3 Pupils
A Guide to Teaching and Learning from Monday 20th April – S4, S5, S6 Pupils
SQA Guide for Parents, Carers, and Learners - Certification 2020
A Guide to Live Clinics and MS Teams for S5 and S6 Pupils
A copy of the emails sent regarding Senior School learning and teaching can be found here:
21st May - Letter regarding Microsoft Teams from Tue 26th May - New S4
21st May - Letter regarding Microsoft Teams from Tue 26th May - New S3
21st May - Letter regarding Microsoft Teams from Tue 26th May - New S2
15th May - Letter regarding S1 Teaching and Learning from Mon 18th May
15th May - Letter regarding S2 Teaching and Learning from Mon 18th May
15th May - Letter regarding S3 Teaching and Learning from Mon 18th May
29th April - Email from Mr Anderson - S3 Assessment Overview
29th April - Email from Mr Anderson - S2 Assessment Overview
29th April - Email from Mr Anderson - S1 Assessment Overview
21st April - Email from Mr Anderson, Depute Head Academic Leadership - SQA Update
16th April - Email from Mr Anderson, Depute Head Academic Leadership - S4 and S5 Pupils
3rd April – Email from Mr Anderson, Depute Head Academic Leadership – SQA Update
1st April – Letter from Matthew Bartlett, Head Master – Senior School At Home Learning from Monday 20th April
25th March - Email from Mr Anderson, Depute Head Academic Leadership - SQA Update
23rd March - Email from Mr Anderson, Depute Head Academic Leadership - SQA Coursework Update
22nd March - Email from Mr Anderson, Depute Head Academic Leadership - SQA Coursework Update
20th March - Email from Mr Anderson, Depute Head Academic Leadership - S1 to S3 Pupils
20th March – Email from Mr Anderson, Depute Head Academic Leadership – National Qualification Pupils