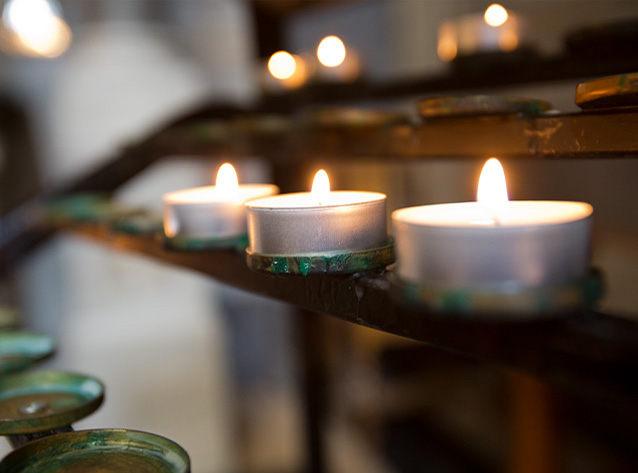 We understand how difficult this time will be for our families and recognise that, as a faith community, faith can be so important during times of difficulty. Mr Tony McBride, Head of Christian Formation at the College, has a special message to our community:
Hello to everyone within the St Aloysius' Community! A special mention to all our pupils who are doing so well adjusting to what is going on and finding a sense of routine during these difficult times – you are all exceptional. My sincere condolences to those of you whose health, or the health of a loved one, has been affected by the pandemic or have experienced the loss of a loved one at this time – may they rest in peace.

I hope this message finds you all well and that, despite present circumstances, you are able to enjoy something of this beautiful Spring season.

I would like to take this opportunity to remind you of the immense spiritual treasure that we have in St Aloysius' College, handed down by the Jesuits, to help us connect with God each day: The Examen.
The Examen is a way of praying, in the Ignatian tradition, which encourages us to pause and examine our day, to say thank you for the things which are going well, and sorry for the things which are not. The Examen helps us to become more aware of what God is doing in our lives, and, by doing it each day, we often find that life just gets better. The pupils and staff of St Aloysius' benefit from an opportunity each school day to pause for 10 minutes before lunch, to put down our books, pens, pencils, and iPads, blocking out all forms of distraction, and to bring ourselves into the calm and comforting presence of God. Perhaps, during this strange time when we have been forced to slow down, the Examen can be an oasis of healing and wholeness for our bodies, our minds, and our emotions.

Can I encourage you to take some time, either on your own or with family, to pray the Examen daily? below, I have included some links to Examen resources, including a video that takes you through the steps of the Examen. In addition, I have included links to Examen resources online.
Keep well everyone.
Mr Tony McBride, Head of Christian Formation
------------------------
Daily Prayer
St Aloysius' College Daily Prayer
Examen Resources
Reimagining the Examen App - iTunes
Reimagining the Examen App - Google Play
Live Mass
Live Stream of Mass from St Andrew's Cathedral, Glasgow