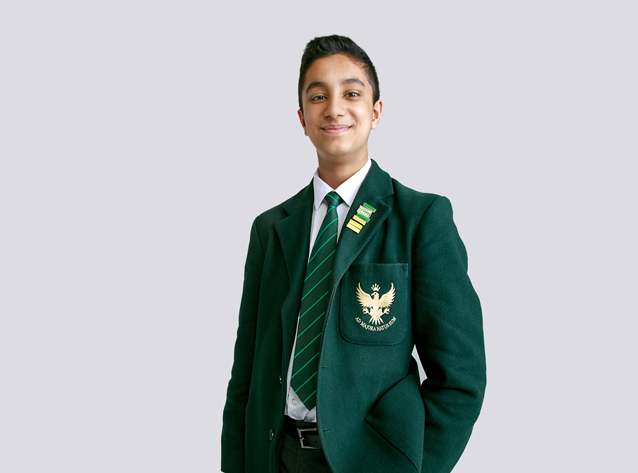 Humzah Razzaq might not be a household name just yet, but First Minister Nicola Sturgeon has already tipped him for parliament. Last year, Humzah was one of a St Aloysius' trio crowned national champions at a public speaking competition.
The College prides itself on helping every child discover the confidence and motivation to achieve great things.
Humzah recalls how his passion for public speaking began: "I started in S1 but it wasn't something I had thought about until I noticed it on the timetable and thought it would be interesting…I wasn't wrong!
"However, I haven't always been successful. I didn't even make it to the first round of my first competition. Luckily the school, my parents and Mr Ruddy believed in me. They encouraged me to keep trying and now I'm national champion of that same competition!"
St Aloysius' College has an extensive co-curricular programme, which aims to open up pupils to a deeper Delight in Learning. Formation of the whole person is key to Jesuit education and by participating in co-curricular activities pupils develop their skills beyond the classroom.
"The Public Speaking club has opened doors for me" Humzah explains, "Now I am able to take this skill outside of school and into my community. I'm also involved in the Maths and Debating Clubs and I am working towards my bronze Duke of Edinburgh award. The co-curricular programme really helps to develop each and every part of you."
"My teachers are an inspiration to me, particularly Mr Ruddy, who coaches the College Rotary teams. He has offered me so much advice and support and has been at every competition so far. He gives up his own time to help us and it really makes us feel valued"
When asked what he thinks makes St Aloysius' different from other schools he replies, "Everyone is so close. There's a huge sense of community and it's an environment where you feel safe and included".
Humzah even has a little advice for anyone joining the College, "Go the extra mile. Take part in as many clubs as you can outside of the classroom and don't give up!"
It's hard to believe Humzah's young age considering his experiences and mature responses. He assures us, however, that he still acts his age and enjoys spending time with his friends discussing the latest iPhone!
Even so, he still has goals and hopes to explore a career in medicine or science…politics will have to come later!