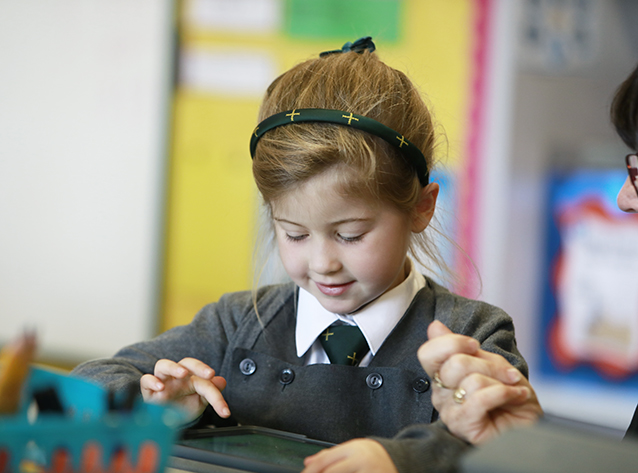 "In the Junior School we offer a stimulating and challenging curriculum…"
In the Junior School, pupils are encouraged to discover personal excellence through a balance of academic and individual achievement. As a school we recognise that every child in the Green Blazer is different and, in keeping with the principles of Jesuit education, each pupil is given the opportunity to achieve goals at their own pace and ability.
We offer a stimulating and challenging curriculum, rich and varied in nature and offering an excellent foundation in the core subjects of English, Maths, RE and Humanities with specialist teachers in Art, Music, Modern Languages, PE and Science.
To best meet the needs of every child, the Junior School is split into two sections, Early Years and Juniors, with a special progression year in Primary 7 to ensure children are fully prepared for making the step into Senior 1.
Early Years involves Kindergarten to Primary 3 children, providing a happy and friendly environment in which pupils can blossom. They are taught the core subjects by committed and enthusiastic class teachers, who use a range of teaching techniques to ensure the needs of all learners are taken into account.
Lessons are meaningful and pupils are challenged, supported and highly motivated. Learning is child-centred and enjoyable but with a strong foundation in academic development. Even at this early stage, particular attention is given to encouraging pupils to be creative, using their imagination to bring learning to life. There is a continued focus on active learning and children are involved in school-based initiatives that help them grow as men and women for others.
As Juniors in Primary 4 to Primary 7, our pupils continue to move through the Junior School in inspiring surroundings, where they can flourish as people whilst being prepared academically.
The pupils are surrounded by learning in the Junior School through innovative displays and stories of their year told through pupil work. In the Juniors section pupils build on an excellent grounding in Early Years, with a continued focus on the individual child and emphasis on support for learning through challenging and meaningful lessons.
The pupils grow to develop a philosophy of life that includes ongoing habits of reflection, they understand what it means to learn and use that learning for the greater good. As they move through the Juniors section, children are encouraged to take an increased accountability for their own learning.
There is an increase in interdisciplinary learning as further opportunities are provided to learn beyond the subject boundaries. Study becomes more focused as children progress towards Primary 7 and the rigours of the Senior School.
Primary 7 pupils are encouraged to take increased responsibility for their own learning as they prepare for progression to the Senior School.
In order to aid the step up from Primary to Secondary education, the children move over from the Junior to Senior School building, where they are immersed in a new environment. The Primary 7 corridor maintains the colour and liveliness of the Junior School whilst giving pupils increased independence.
There is close liaison between the P7 co-ordinator and the Senior School Heads of Year and Heads of Department to ensure that all pupils receive the support they need both academically and pastorally as they progress.