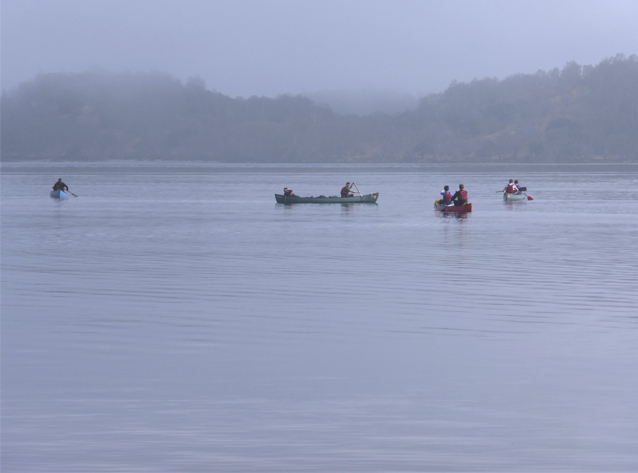 "Everybody needs beauty as well as bread, places to play in and pray in, where nature may heal and give strength to body and soul." John Muir
The College recognises that as part of our student's development as whole, it is important to have the opportunity to spend time outside the classroom. Being an inner city campus, we are fortunate to have easy access to outdoor pursuits in the variety of wild places that Scotland has to offer.
The Outdoor Education Department has a dedicated full time Head of Outdoor Education, supported by a D of E administrator, specialist climbing and canoeing coaches along with a highly qualified and experienced associate instructional team, that support the weekly co-curricular and curricular activities that the department runs throughout the year.
The College is the largest sole provider of the D of E award on the West of Scotland, running Bronze, Silver and Gold awards throughout the year. We also deliver the John Muir Award and National Navigational Award Scheme, as well as National Indoor Climbing Award, National Indoor Bouldering Award and Paddle Power Award.
Outdoor Education is a progressively challenging programme throughout, commencing in Junior School and leading through to Senior School, where it begins to develop individual character, team building and leadership skills. Starting with participation on an outdoor pursuit's trip, weekly after-school climbing, bike ability award and the John Muir Award in Junior School, it gives pupils a taster for the possibilities available to them further up the school. A popular choice for S4 – S6 pupils, is to participate in the Outdoor Education option for Senior Games. This year's programme consists of a 5 week rotation of adventure pursuits that include: rock climbing, kayaking, canoeing, mountain biking, trail running, skiing, snowboarding, orienteering and ice climbing. S6 pupils are also involved with supporting the younger ones as mentors through our climbing coaching scheme.
We offer weekly after-school climbing, available from P6 through to S6, both offering a recreational climbing club, supported by committed, high performance climbing teams and coaches. We are able to make the most of Glasgow's two, excellent climbing wall facilities as well as the International Climbing arena at Ratho. Due to this, we have had past and present students selected as part of the GB teams.
Kayaking has been growing in popularity within the College, which is helped by weekly S1-S6 after-school opportunities at the College's paddle sport base at Pinkston, which houses Scotland's only artificial white water course, offering unique urban water sports facilities.
Weekly participation in outdoor pursuits and DofE is complimented with a vast array of UK and International trips throughout the year. This includes:
In Junior School: P6 trip to Ardmay House, P6-P7 Italian Ski Trip and John Muir Award day trips in P7.
In Senior School: S1 Outward Bound Residential, Senior Climbing Squad/Senior Kayaking Club days, Duke of Edinburgh Bronze, Silver and Gold walking, canoeing and cycling Expeditions, Bi-Annual International Rock Climbing trip, Bi-Annual International Kayaking trip, a Winter Skills Weekend in the Scottish Highlands, Indoor Pool Kayak Rolling weekends and the S6 Leadership Programme to name but a few.