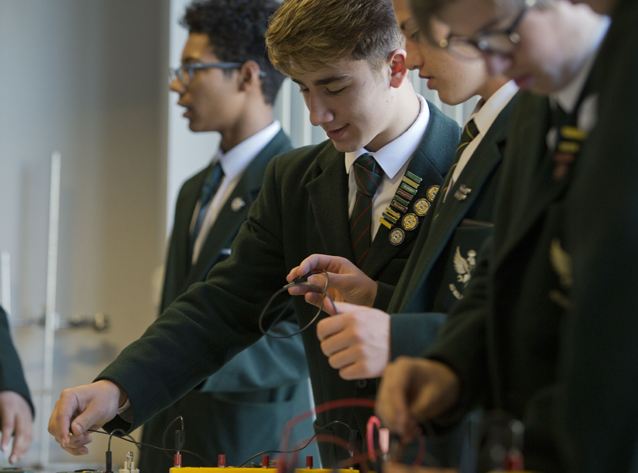 "The important thing is to not stop questioning. Curiosity has its own reason for existence. One cannot help but be in awe when he contemplates the mysteries of eternity, of life, of the marvellous structure of reality. It is enough if one tries merely to comprehend a little of this mystery each day." "Old Man's Advice to Youth: 'Never Lose a Holy Curiosity.'" LIFE Magazine (2 May 1955) p. 64" Albert Einstein
The department aims to enthuse pupils in the study of physics from the smallest sub-atomic particles to the grand scale of the universe, from the cold of space to the immense temperatures of a star. This will be achieved when the pupils are actively involved in their own learning and develop a sense of wonder about God's universe and the necessary skills to analyse and explain it.
The department fully endorses Ignatius' concept of "magis" and strives to help pupils achieve excellence for its own sake. This may mean exam results for some individuals, personal achievement for others. Each staff member provides a witness to this excellence in their own lives through professional development and their dealings with others.
The department finds echoes of Ignatius' approach in a Curriculum for Excellence and endorses the emphasis on real problem solving, skills and independent learning as well as the acquisition of knowledge.
The department is located on the third floor of the Clavius building with four modern, spacious and well equipped laboratories. Physics, like all the sciences at St. Aloysius', is taught discretely in S1 and S2. Pupils then follow the National 5 course in S3 and 4 before opting for Higher and Advanced Higher. The large numbers choosing the subject are significantly above the national average, as are the excellent results they achieve.
The College's focus on teaching for successful learning has had a profound impact on the department as we have adopted more active learning styles and integrated aspects of Assessment is for Learning into our everyday teaching. We have also embraced the digital learning initiative and the opportunities it affords to engage and support pupils in independent and deep learning.
Outside of the classroom we have had pupils involved in visiting lectures, trips to power stations and visits to Alton Towers to investigate concepts such as Energy and Forces. Our students have won national competitions and been successful in the Scottish Space School and Headstart Engineering Courses. Our regular trip to the large hadron collider (CERN) in Geneva is especially popular with our senior pupils, a high proportion of whom go on to study Engineering and Physical Sciences at university.